Chippenham Hospital Swift Creek
ER

emergency care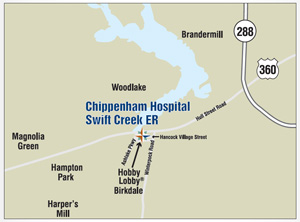 At Chippenham Hospital Swift Creek ER in Chesterfield, you and your family have access to the same quality of emergency care you'd expect from a hospital emergency room in your own neighborhood. Our stand-alone ER location allows us to see patients quickly while giving them the highest quality care possible.
Backed by the ERs at Chippenham and Johnston-Willis Hospitals, this emergency room is staffed with board-certified emergency room physicians and nurses 24 hours a day, 365 days a year. This also means you will be transitioned seamlessly to our family of hospitals if you need to be hospitalized or need specialized treatment.
If you are experiencing a medical emergency and think it may be life threatening, don't drive to the nearest emergency room. Call 911 for transportation and immediate medical evaluation.
Chippenham Hospital Swift Creek
ER

Features
Separate pediatric & adult waiting areas to help alleviate younger patients' anxiety
All private treatment rooms
CT
Ultrasound
Diagnostic & portable X-rays
On-site laboratory testing
Telemedicine capabilities with specific focus on stroke care and behavioral health
Array of medical services
Direct admission capabilities
Your nearest
ER
Conveniently located in the Hancock Village Shopping Center in front of Hobby Lobby, this 11,500-square-foot facility is constructed with the surrounding population's needs in mind. We serve all neighboring communities such as Brandermill, Woodlake, Magnolia Green, Hampton Park, Harper's Mill, and Summer Lake, among others.
Our ER staff is able to treat a variety of medical conditions ranging from dog bites to chest pain.
Full-service emergency care including pediatrics
Minor illness and injury (sprains, strains, breaks, falls, coughs, colds, UTIs)
Major medical concerns (drug overdose, burns, GYN, sepsis)
Heart concerns (chest pain, shortness of breath, congestive heart failure, cardiac arrest)
Respiratory issues (asthma, COPD, respiratory arrest, shortness of breath)
Neurological (stroke, seizure, migraines, minor head injuries)
Life issues (animals bites, allergic reactions, cuts, wounds)
Emotional wellness (acute and chronic behavioral health)
Thanks to our conveniently located emergency room, quality emergency care is never far away.